12

Jul 2013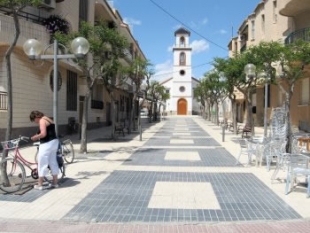 As part of our regular blog we will highlight up and coming areas and those which are popular with many of our clients and team, giving you an overview of the area and what it has to offer.. perfect if you are planning your next holiday or even a move to the sun!
Today we are going to focus on Los Alcazares, Murcia a beautiful old fishing village in the region of Murcia, Costa Calida boasting over 7km of unspoilt promenade and beaches. It is no secret that the Spanish property market is on the up and property in Los Alcazares is no exception. Whether you are looking for a town house or an apartment for sale in Los Alcazares, property is in high demand here.
If you are already looking for a property in Los Alcazares, Murcia be sure to browse our selection of both new build and resale properties in Los Alcazares, Murcia. If you are not already looking you may want to start after reading this week's hot spot on Los Alcazares, Murcia and what it has to offer!
Los Alcázares is situated on the shores of the Mar Menor, in the Region Of Murcia at the southernmost point. With a network of efficient and safe road connections with main links throughout the region Los Alcazares is accessible and convenient, currently only 10 mins drive from San Javier Murcia Airport and about half an hour's drive from the new International Airport at Corvera. With cheap flights available from most European airports, it is a very popular area and many people choose to buy a property in Los Alcazares for this reason.
What is the climate like in Los Alcazares, Murcia?
As Los Alcazares sits on the shores of the Mar Menor it benefits from a fantasic micro-climate with warm temperatures all year round (averaging in the high 20s in the summer and rarely dipping below 15°C in winter) and very low rainfall of around 34cm per year the beautiful beaches and outdoor life can be enjoyed all year round. The safe, shallow waters of the Mar Menor lend themselves to sailing, kitesurfing and windsurfing as well as, of course, lazy paddling and swimming to cool off after an afternoon of sunbathing on just part of the 73 kilometre stretch of sandy beach. Beach front property for sale in Los Alcazares is very popular and it is easy to see why with such beautiful views.
What is the community like in Los Alcazares, Murcia?
Los Alcazares has a permanent population of around 15000 residents, while one of its main activities being tourism, it also has a strong expat community with people from around Europe and further afield choosing to own a property in Los Alcazares. With many properties for sale in Los Alcazares established urbanisations in addition to new build property, the property market here is very healthy and increasing numbers of people are considering property for sale in Los Alcazares as a viable option as the prices are very reasonable. With an abundance of Murcian tapas bars as well as a good selection of English bars and restaurants, it really does have something to offer everyone, another reason why so many people are looking for their perfect property for sale in Los Alcazares.
What is going on in Los Alcazares, Murcia?
Los Alcazares has lots to offer and for centuries it has been the destination of choice for many Murcians. However if you fancy something a little out of the ordinary and a bit more rock 'n' roll why not check out the Dock Festival in Los Alcazares!
13th July Dock Festival Los Alcazares
This is Los Alcazares first Rock event taking place in the auditorium of the Parque de las Penaz Heurtanas. For just 25 euro you can rock the night away and enjoy music from some great rock bands which are combining Spanish artists like Eldorado and Los Tiki Phantoms, American artists such as Delta Saints and Steepwater Band and even Ten Years After who wowed the crowds at Woodstock with their performance of 'I'm going home'….what better place to listen to such musicians than the back drop of Los Alcazares, Murcia.
On a more traditional note, annually the town fills with vibrant costumes, folk dancers, Murcian tapas and artesan crafts during the migration of the hurtanos with its colourful Semana de la Huerta y El Mar.
12th – 20th August is the Semana de la Huerta y El Mar is Los Alcazares, the festival of the sea and the orchards.
Murcia is an orchard region; the orchards and vegetable gardens are known as huertos and have been irrigated for hundreds of years via irrigation systems installed by the arabs who used to occupy the region. Migrant populations known as hurtanos or orchard dwellers, built barracas (temporary houses) and worked these orchards providing crops for the city.
Every year for 1 week Los Alcazares is home to this fabulous summer festival. While this is viewed as a folk festival, in essence this is a celebration of the Murcian countryside traditions, specifically the hurtanos, who came to Los Alcazares each summer to rest.
As part of the Fiesta de la Huerta y el mar an impressive barraca is constructed with an evocative vegetable plot often with crops and animals, reinforcing the tradition. In true folk style food is plentiful and locals build and open their own barracas serving traditional tapas and special dishes as a way of raising money for the event. Be sure to sample some of this gorgeous cuisine, each barraca welcomes people to eat from it. So sample a tapas dish or two and enjoy the folk spectaculars in true Murcian style.
The two biggest nights are at the end of the festival and you can be entertained by international dance groups. Tickets for the events are sold on the evening from a ticket cabin and are generally inexpensive and well worth the few euros to be part of such a memorable event!
You can search specifically for property for sale in Los Alcazares, Murcia by using our advanced search, if you don't find what your looking for it doesn't mean we don't have it. ES Property For Sale In Spain have 10 years experience finding property for our clients, if it's out there we have access to it, let us do the hard work for you.