29

Jan 2014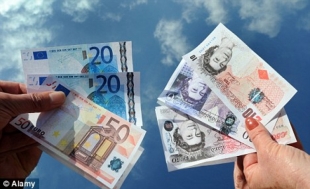 ES Property For Sale In Spain welcomes our guest blogger with an excellent article all potential Spanish property purchasers should want to read!
To buy a Spanish property on the Costa Blanca become more affordable this week, as the pound hit a 1-year high against the euro.
Sterling jumps against the euro! There's good news if you plan to buy a Spanish property on the Costa Blanca this week, because the pound has hit 1.2243 against the euro, its highest since January 10th 2013, or more than 1 year. What this means if you're looking for a new property for sale in Spain is that you'll now get more euros for your savings, which makes your dream home more affordable.
In fact, 9 months ago, back on March 12th 2013, sterling was as low as 1.1371 versus the common currency. Since then, it's hence climbed more than 8 cents in every euro. Were you to transfer £125,000 to Spain to buy a new Spanish property then, you'd now get +€10,400 more than 9 months ago! So the exchange rate is clearly working in your favour.
Sterling climbs, as UK joblessness falls to 7.1%
The pound has climbed, chiefly because unemployment in the UK is falling far faster than forecast. Joblessness fell -0.3% in the UK in November to 7.1%, the lowest since February 2009. This lifted the pound, because it tells us that the UK's economic comeback is clearly advancing full-steam ahead! So if there's good economic news from the UK, that will in fact help you to reach your dream of buying a property in Spain.
Pound may rise further, as UK economy set to motor.
What's more, sterling may strengthen further against the euro this year, and according to some analysts, could even reach 1.25! This is because the UK economy will expand +2.4% in 2014, according to the IMF, more than any other major European country. Moreover, as the UK economy picks up, the Bank of England may even decide to lift interest rates too, which will also boost the pound.
At the same time, you can expect buying a Spanish property on the Costa Blanca to become more affordable, as the euro weakens too. The common currency may fall, because the Eurozone is in danger of falling into deflation, whereby prices continually fall, causing economic stagnation. However, though deflation may not be great for the Eurozone, it will make buying a house in Spain better value!
With this in mind then, not only is the best exchange rate in 12 months available this week, to buy a home in Spain may become more affordable as 2014 continues.
By Peter Lavelle at currency broker Pure FX