30

Jul 2014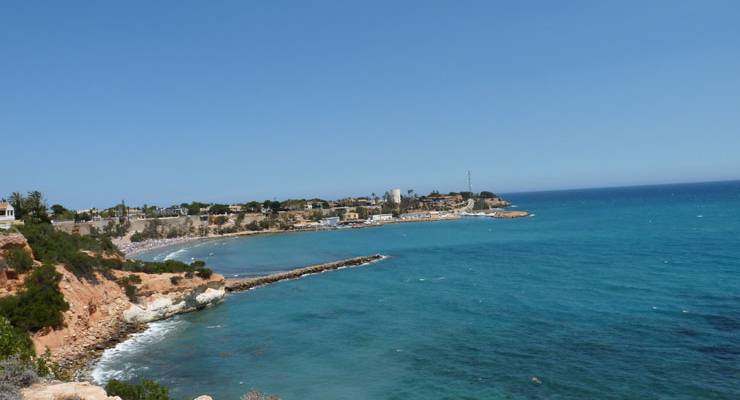 CABO ROIG, COSTA BLANCA PROPERTY FOR SALE (SPAIN)
Cabo Roig sits on the Costa Blanca South between La Zenia to the North and Campoamor to the South and is close to the major town of Torrevieja. It is less than 1 hr drive from Alicante Airport and 40 mins from Murcia Airport ensuring it is accessible and affordable to commute to the UK and convenient for family and friends to visit you should you decide to reside in Cabo Roig, Costa Blanca South full time
It is easy to comprehend why Cabo Roig, Costa Blanca, Spain is in demand and one of the most popular locations to buy a resale property. Whilst retaining its Spanish charm Cabo Roig, Costa Blanca, Spain combines being an ideal holiday retreat and also a place where year round living is not only possible but realistic.
The cities of Alicante, Murcia, Elche, and Orihuela are easily accessible due to the excellent road network and are well worth a visit.
Here at Es Property For Sale In Spain we offer and excellent selection of properties for sale in Cabo Roig, Alicante Spain. Whether you are looking to buy a cheap resale apartment in Cabo Roig or a bargain villa for sale on the Costa Blanca Spain – we can help!
What does Cabo Roig have to offer?
What does Cabo Roig really have to offer people looking to buy a cheap property on the Costa Blanca, Spain……..? Cabo Roig is located on the Orihuela Costa and boasts 16K of stunning coastline from Punta Prima to Mil Palmeras. Indeed Spaniards from Murcia, Spain frequent the beaches at weekends eating out later with their families. Tourists are tempted here by the clean safe beaches, many having Blue Flag status and some only a short stroll from Cabo Roig, Costa Blanca - Spain. Here families are well catered for with water sports, waterpark and numerous restaurants serving international menus.
The city of Orihuela is 20K inland. Here Gothic, Renaissance and Baroque architecture adds to its atmosphere. The old town of Cabo Roig,Costa Blanca Spain affords magnificent views of the Mediterranean from its palm lined avenues and impeccably manicured gardens.
Probably the most famous of Cabo Roigs landmarks is the watchtower built in the 16th century to keep them safe from attacks from Berber pirates. This is now incorporated into a restaurant complex overlooking the tastefully modernised marina. A refurbishment that has resulted in it being one of the most desirable moorings on the coast. We have a vast selection of properties for sale in Cabo Roig, Costa Blanca, just think this could be on your doorstep…. If you want to buy a cheap property in Spain our team can help make that dream a reality.
The La Zenia, Costa Blanca cliff walk provides magnificent views of the area and taken in early evening, a wonderfully refreshing way to bring your day to a close.
With coastal temperatures rarely dropping below 16 in spring and Autumn and it's uniquely dry climate it boasts over 340 days of sunshine and hardly any rain. The World Health Organisation rates this area as having the healthiest climate in Europe and indeed 2nd Worldwide. This Microclimate is created by the Salt water lakes as they absorb moisture from the atmosphere and enhance the Medicinal benefits to those with Rheumatism and numerous respiratory conditions...another benefit of living in Spain!
Do you want to buy a property in Cabo Roig, Costa Blanca or simply find a cheap apartment or villa for sale?
Contact us today and let us help you find your dream property for sale on the Costa Blanca, Spain.