23

Oct 2019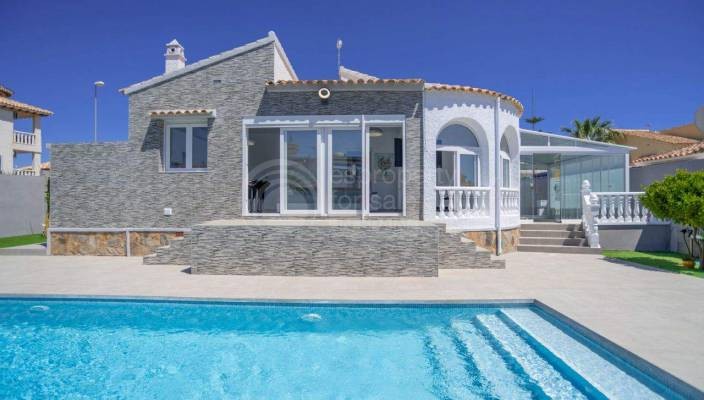 Do you know our villas for sale in Villamartin? Es Property for sale in Spain invites you to look into its properties to fall in love. We are sure that you will be surprised with the spectacular views of the Mediterranean Sea and the most prestigious golf courses that you can appreciate from the large solarium with barbecue zone.
When thinking of a relaxing and deserved holiday, we usually look for coastal areas that have an enriching offer of sun and beach. In this sense, Spain takes all the merits. Costa Blanca South is one of the most interesting areas since it has mild temperatures during all year and has more than 300 days of sun. In addition of the excellent weather, is important to know that many of their beaches are catalogued with Blue Flag: Mil Palmeras, Punta Prima, La Caleta, Cala Mosca, La Zenia, Cala Capitán, El Cura, Los Náufragos, Aguamarina, Campoamor, Barranco Rubio, Cala Estaca… This is a recognition for its crystal clear waters and cleaning surroundings.
You can not imagine how happy you will be on one of these beaches with the sound of the sea in the background. We invite you to relax with a sunbed and a good book. This is your chance to turn your boring gray and rainy day routine into a healthier lifestyle with thousands of plans to do outdoors.
Improve your wellness in our villas for sale in Villamartin
What are you waiting for to make the change you need? Get closer to the benefits of living near the Mediterranean Sea with our modern villas for sale in Villamartin with private pool and large garden. Nature and warm atmosphere will welcome you in your new home.
At Es Property for sale in Spain we are specialists in quality properties located in Costa Blanca South, specially in Orihuela Costa: Mil Palmeras, Las Filipinas, Campoamor, Dehesa de Campoamor, Villamartin, ecc. Moreover, we extend our services to other interesting spots in Costa Cálida: Los Alcázares, La Manga del Mar Menor, Santiago de Ribera, San Pedro del Pinatar, Lo Pagán, Los Dolses, San Javier, Sucina...
Once you have decided where you want to spend your next vacation or your well-deserved and restful retirement, you will have to decide what type of home you would like to reside in. In fact, a villa with private pool and chill out area on its terrace is one of the most desired options by international tourists. This is a good way to take advantage of every ray of sunlight before returning to your home country.
Find your perfect house among our villas for sale in Villamartin
Rely on our Estate Agents to find some villas for sale in Villamartin next to the golf courses and the beaches. We guarantee personalized services in order tobe satisfied with the results.
Let us get to know your interests to be successful in your purchase:
UK Office:
UK office: Kids Allowed Christie Fields, 7 Christie Way, Christie Fields · Manchester · Lancashire · M21 7QY

Telephone: 0044 161 860 5111
Spanish Office:
Adress: Calle Isla Columbretes, 30710 Los Alcázares, Murcia, España

Telephone: 0034 965 020 197